Full Review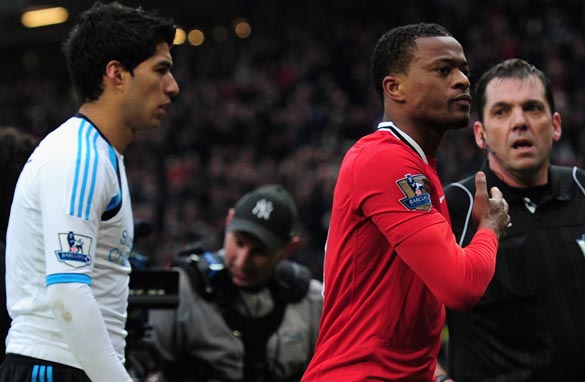 All eyes will be on Patrice Evra and Luis Suarez during Sunday's game at Anfield.
This Sunday English football's two most successful clubs and fierce rivals will contest one of the season's most eagerly-awaited fixtures.
But the meeting of Liverpool and Manchester United at Anfield is even more significant this time around as it will surely provide a litmus test for just how grown up English football is, or whether it wants to remain forever mired in a warped world of childlike abuse and tribalism.
It is barely a fortnight since the Paralympics ended, an event that signalled the conclusion of six weeks of sport in Britain that media commentators purred over as one of the nation's finest moments.
Six weeks of golden medals and moments, six weeks of a nation apparently gathering at the pub or at the water cooler, six weeks when millions of fans attended events up and down the country without a hint of trouble.
Given what has been going in the Premier League over the last two weeks those memories already feel a lifetime away.
Last weekend Manchester United had to publicly condemn the abusive chanting of some of its fans during a win over Wigan as they taunted Liverpool supporters in response to the publication of the report into the Hillsborough disaster.
Those fans sang "It's never your fault, it's never your fault, always the victims, it's never your fault," despite manager Alex Ferguson's call ahead of the game for calm and: "for supporters of these two great clubs to represent their clubs with the integrity and honor that our glorious history demands."
However, those chants are positively mild compared to some of the abuse being tapped out by keyboard warriors on internet forums.
In the aftermath of the publication of the Hillsborough report, one of the more polite United posters questioned why it was that Liverpool supporters had been involved in two stadium disasters, a reference toHeysel, when 39 fans were killed ahead of the 1985 European Cup final between Juventus and the Merseyside club.
The social media abuse surrounding football was referenced in a Parliamentary report on Wednesdaythat concluded English football continues to be troubled by the scourge of racism, as well as homophobia and "laddish" behaviour.
"Recent incidents of racist abuse in the UK, both on and off the pitch, have highlighted the fact that there remain significant problems," concluded the report.
One of those recent incidents is a reference to the racism cases involving Patrice Evra of Manchester United and Liverpool's Luis Suarez as well as Chelsea's John Terry and Anton Ferdinand of QPR.
In December, the English Football Association handed Suarez an eight-match ban and a £40,000 fineafter finding the Uruguayan guilty of racially abusing Evra.
While Suarez was suspended, Liverpool knocked United out of the FA Cup at Anfield and Evra was booed by Reds supporters every time he touched the ball.
Following that game Merseyside Police arrested a 59-year-old man from north Wales after the publication on the internet of a picture appearing to show a Liverpool fan making a "monkey" gesture.
Relations between the clubs and the fans deteriorated further after Suarez had served his ban. The Uruguayan refused to shake Evra's hand in a league meeting at Old Trafford.
On Saturday, QPR defender Anton Ferdinand also refused to shake the hand of Chelsea captain John Terry  following allegations Terry made racist comments to Ferdinand last season.
That prompted Professional Footballers' Association chief Gordon Taylor to suggest the current handshake row was in danger of becoming a "mafia feud".
It might sound hard to believe but the game is less toxic that in used to be.
In the 1980s, in one meeting between Liverpool and United at Old Trafford, some Liverpool fans came armed with inflatable aeroplanes – a reference to the Munich air disaster when eight United players were among 23 people who died in a plane crash in 1958 – while in the aftermath there were repeated skirmishes between the rival sets of fans.
Even so a female friend, who has an Arsenal season-ticket holder, recently told me she had no wish to attend away matches as she found the atmosphere too intimidating.
Both Liverpool, who will be playing at Anfield for the first time since the publication of the Hillsborough report, and United have been in talks this week as to how best demonstrate the need for good relations between the two clubs.
Suarez and Evra are expected to shake hands before the game, while Liverpool captain Steven Gerrard and United skipper Nemanja Vidic will release 96 balloons shortly before kick-off in memory of those who died in the 1989 Hillsborough tragedy.
"We will support them in every way we can," said United manager Ferguson. "We are supportive of Liverpool."
This week Manchester has had its own reasons to mourn after two policewomen, PC Fiona Bone and PC Nicola Hughes, were killed while on duty in the Greater Manchester area and United will wear black armbands in honour of the women.
But it will be the reaction of both sets of supporters at Anfield that will be most closely watched.
Tribalism runs deep in English football and it is arguable that it is what makes the game such a compelling spectacle. But how far should tribalism go?
Will Evra be booed by Liverpool supporters? Is he being booed because he is a United player or because Liverpool fans feel a sense of grievance over the FA's punishment for Suarez?
In turn will Suarez be taunted by United fans with the chant of "racist"? Or are they booing him because he is perceived to be a diver? In the 21st century is it acceptable to boo or taunt a rival player or fan?
There will be many thousands who will watch Sunday's match, whose only concern will be to support their team as voraciously as possible.
But it will be the actions of those minority fans – for want of a better word the English equivalent of the ultras – that will be most closely monitored.
And it will be the actions of the minority that will provide a sense of just how English fans can expect to experience football over the coming years.
Do you want to watch a game of football with an undercurrent of vitriol and abuse? Or do you want to be able to take your son and daughter to a game without worrying about whether you will be sitting next to a foul-mouthed supporter, who prefers to spend most of a match abusing an opposition player and sometimes even members of their team? Or is your idea of support or entertainment to sing songs mocking the dead?
Anfield on Sunday will provide a glimpse of English football's future.
Comeback Season is beginning for Johnny Manziel in an unlikely place. At a time when the Hamilton Tiger-Cats of the Canadian Football League want Manziel to agree to terms, Manziel has agreed to terms with The Spring League, a short-season developmental [...]
Mudding, which can likewise be alluded to as mud impeding or mud dashing, has turned out to be progressively mainstream particularly for the normal redneck. In those days mudding would be more similar to an interest or a fun movement to do. It has now [...]
In the realm of corporate group assembling, it's the present day, front line thoughts that truly lead the route in development and association. We are continually anticipating seeing better approaches for making and protecting a casual, innovative [...]